Who Yale Honors
Berkeley College
Calhoun College
Davenport College
TD College
JE College
Morse College
Pierson College
Saybrook College
Branford College
Silliman College
Stiles College
Trumbull College
Divinity School
Law School
Street Hall
Woodbridge Hall
Yale Map
Saybrook College
& Branford College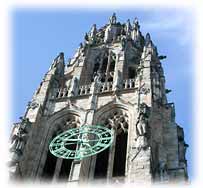 Yale's "Memorial Quadrangle" was, in the 1930s, transformed into Yale's first two residential colleges: Branford College and Saybrook College.
The "Memorial Quadrangle" today contains the "Livingston Gateway", which honors Col. Philip Livingston, a New York slave trader who endowed Yale's first professorship.
The "Memorial Quadrangle" also includes Harkness Tower, which is adorned by statues of Yale's eight Worthies (described on Yale's website). Only three of the Worthies are given the additional honor of a residential college name:
Numbers in parentheses refer to notes. See the notes page.